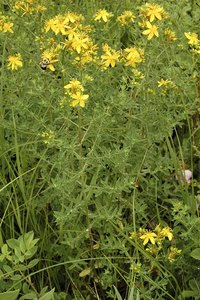 A natural cure for anxiety, St. John's wort (hypericum perforatum), blooms in mid-June and continues for three or four weeks, the small shrub-like stems covered in a profusion of delicate yellow flowers. This gentle herb has been in use for thousands of years, known for its ability to calm anxiety. In Germany, physicians prescribe concentrated Saint John's wort more than other anxiety drugs.
Enhance your brain's natural neurotransmitters, dopamine, serotonin and norepinephrine by adding St. John's wort to your daily diet. In clinical studies, this herb mimicked the effects of a mild MAO inhibitor but its effect is cumulative, meaning you may not experience relief for up to three weeks.
Wean yourself off prescription medications before starting a St. John's wort regime with permission from your physician. Many doctors are willing to allow their patients to switch to a natural anxiety alternative, especially if the patient is experiencing side effects to their current medication.
Build up to a maximum dosage of 300mg of hypericum daily. St. John's wort supplements will list the amount of hypericum in the capsules so read the label carefully to determine how much you should take. However, do not start with the maximum amount of 300mg; begin with three doses, per day, of no more than 50mg and increase the dosage by 20mg, divided into three doses on a weekly basis.
Reduce your intake of St. John's wort after six months to a "maintenance" level. This amount is subjective and is different for every person, but, in general, you want to take as little of the herb as possible, to treat your anxiety.
Take St. John's wort supplements with food to reduce gassiness and intestinal distress. While most people suffer no adverse side effects, some anxiety sufferers experience mild digestive disorders.