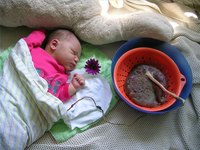 In African cultures the umbilical cord of a woman's first child is a tool of divination. It is inspected by midwives for clues to the mother's future, in a belief system similar to reading tea leaves, palms or tarot cards. Some Native American tribes follow a custom of preserving a section of umbilical cord in cloth. It is added to a medicine bag that is either attached to the cradle or worn by the mother as a symbol of the child's connection to her and to Mother Earth. The preserved cord is thought to offer protection to the child throughout life. In Japan, a traditional ceremony called Hesono O relegates a dried piece of umbilical cord to a special wooden keepsake box made for that purpose, and is believed to hold good luck for the future mother-child relationship.
Things You'll Need
Small section or the entire length of umbilical cord, saved either when the stump detaches from the baby's belly button or when cut from the placenta.
70% alcohol solution or hydrogen peroxide
Cotton balls
Paper plate or Teflex screen (coated sheets used in food dehydrators)
Cloth, ashes, herbs, or other culturally appropriate substances
Keepsake box or plastic resealable bag
Cleaning the cord of blood and debris with cotton balls dipped in a 70 percent alcohol or hydrogen peroxide solution is optional but will speed drying. If using the stump of cord after it detaches from the baby, the small piece of umbilical cord will be partially dry but may need to be cleaned.
Apply ashes or herbs to the umbilical cord, as desired. This step is optional. Proponents of Lotus Birth, in which the umbilical cord remains attached to the baby and the placenta until it falls off naturally, typically use sea salt, lavender, rosemary and golden seal to preserve the placenta and cord.
If the whole length of umbilical cord is used, it may be arranged soon after birth in a circle, spiral, or heart shape and left on a paper plate or Teflex sheet to dry.
Umbilical cords can be placed out-of-doors or indoors on a well-ventilated shelf but must be kept out of reach of animals and children. Depending on climate, the cord should be completely dry in three to six days.The dried cord may be wrapped in cloth, placed in a clear plastic bag for inclusion in a baby book, or placed in a keepsake box or bag. Once the cord is completely dry it harbors no organisms and can be safely handled by adults or children.