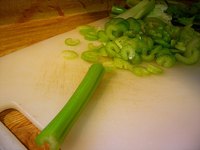 Celery, whether in leaf, stem, root or seed form, has been used for centuries as an herbal remedy. Components of celery can reduce the effects of high blood pressure. These include potassium, which helps to regulate water in the body, and pthalide, which improves blood flow by relaxing the smooth muscles in blood vessels. Adding celery to your daily regimen may help you control your blood pressure in a more natural way.
Things You'll Need
Eat 1/4 lb. of raw celery each day.
If you can't handle eating that much raw celery, create an infusion of celery seed by steeping one to two crushed seeds with boiling water for around 20 minutes and drink it.
Other ways to increase your celery intake include taking 1 to 2 tsp. of a tincture of celery or celery seed extract internally up to three times a day. Also use the leaves and roots of celery to make tea, or juice the celery and enjoy it straight or combine it with other juices for a healthy drink.
Incorporate celery in other foods such as soups and salads to increase your intake.
Try celery seed tablets or oil capsules from your local health food store or online resource. Follow the dosage recommendations on the package.