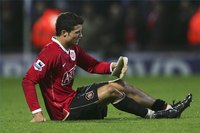 How to Treat Shin Splints. Shin splints usually occur when the calf and shin muscles are unbalanced, pulling the foot too much in one direction. Treatments vary, but general concepts serve as good guidelines.
Things You'll Need
One roll each black sticky and white cloth athletic tapes
Assess the Cause
Halt daily exercise temporarily.
Check your shoes. Make sure that they fit properly and that arch supports are adequate.
Study the surface you exercise on if you're running, jogging or walking. Hard surfaces (often blamed as the culprit) are not always detrimental. More problematic are uneven surfaces or alterations between them, such as running from road to forest trails to sand.
Treat the Pain
Ice the shins once a day. Leave ice on for 20 minutes, off for 40, repeating this pattern 3 times in a row.
Massage the painful area as often as desired. This can reduce swelling.
Try taking nonprescription anti-inflammatory medication, such as aspirin or ibuprofen, which often helps alleviate minor pain and discomfort.
Place an 1/8-inch thick piece of nylon beneath the insole of your shoe, thus raising the heel, for anterior pain.
Return to Exercise
Stretch well and warm up properly. Concentrate on stretching both sides of the leg equally.
Wrap your arches and/or shins with elastic bandages or athletic tape before exercise.
Adjust to a pattern that doesn't cause pain after assessing your running or walking surface.
Lengthen your stride--instead of taking short, choppy steps--for a smoother pace.