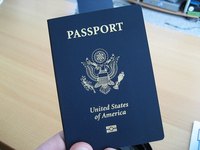 Whether you are a homemaker or a movie star, you will still be required to have a valid passport before traveling overseas. Applying for a passport in Oklahoma is simple, because there are so many convenient passport processing centers across the state to help you. Learn to obtain a passport in Oklahoma in preparation of your trip out of the country.
Find a location near you to process your passport application. Some locations in Oklahoma provide on-site passport photos, while others do not. Many post offices and County Clerk offices accept passport applications. See the Resources section below to search for a location near you.

Gather the documents required to apply for a passport in Oklahoma. You will need your driver's license or state photo ID and a certified copy of your birth certificate. If you were born out-of-state, you will need to contact your home state's vital record division to obtain a certified copy of your birth certificate. Minor children are not required to have a photo ID.

Visit a photographer who offers passport photos, if your application center does not provide photo services. Find an experienced photographer who has taken passport photos before. You need two head shots measuring 2X2 with a clear view of your face in a light background.

Bring the required documents and photographs to the passport application center of your choice. As of September 2009, the total fee is $100 for applicants over 16 and $85 for applicants under 16. The agency representative will assist you in filling out the application and submitting it for passport issuance.