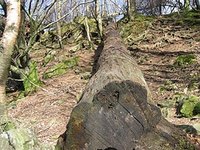 Building a raft out of dead trees and floating down the river on it sounds like an adventure straight out of a storybook. But it can be done. It may take some effort and a few tries to get it right. Pack some sandwiches and some cold sodas and make an afternoon of it.
Things You'll Need
"Short-cut" saw
Rope
Large scissors
Scout the woods near the river for an area that has a lot of dead trees. Look for trees that are about 10 to 12 inches in diameter, no larger, or they will be too hard to cut down. Choose lightweight woods -- dry poplar or cottonwood trees are a good choice. White cedar is also a good choice. Maple is hard to cut and is hard to float -- it weighs about 45 lbs. per cubic foot.
Cut down the trees and then cut them into lengths of about 10 to 12 feet. For good maneuverability, build a long, narrow raft. You'll need between 12 and 16 logs, depending on the width you seek. Use a toolbox-sized "short-cut" saw to cut your wood. It's easier to manage than a longer saw, and it's easier to carry with you.
Cut five long skinny logs to use as poles. Make sure these poles are long enough to stretch across all your logs when they are assembled side by side. You'll use three skinny poles in assembling your raft. Two will be used to help guide your raft, once you are on your way.
Gather all your logs and poles together and bring them to the riverside.
Assemble your raft in the water. Use about 100 feet of rope. Tie your big logs together, using sections of rope. Use large scissors to cut your rope. Tie the logs together at the top, the middle and the bottom. Tie two of your skinny poles to the logs at the top, attaching the rope at both ends. Tie a skinny pole diagonally across the top of the raft, tying at both ends.
See if your raft will float. If not, remove some of the large logs. Or try tying the large logs tighter together.
Place your cooler on the raft and use it as a seat. Any other passengers will have to stand and use a pole to help guide the raft.
Put on your life jackets. Launch your raft and float down the river.