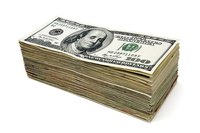 Making money on ebay can be easy if you know how to find bargains and resell them. While everyone is wondering how to make money at home and thinking about cleaning out their attics to resell items on ebay, many people overlook one of the obvious ways to make extra money: buying items at a discount and reselling them.
Things You'll Need
Decide what you are going to sell. Making money on ebay is easier if you know what items are selling, especially if they are items you are likely to find at thrift stores or garage sales. Designer clothes or gently used sporting goods may be one option. CDs or DVDs is another. Pick something you are interested in, because when deciding how to earn extra money, you want to pick a way to make extra money that is interesting.
Learn about the item. If you decide to sell sporting equipment or clothes, spend some time one bay seeing what sells. Look at prices and try to get an idea of the things you should look for that you will have a good chance of reselling. Making money on ebay depends on having an item people want.
Go to thrift stores and garage sales. You can also look on your local Craigslist and Freecycle for free or cheap items. Before you buy an item form one of these sites, check ebay to see what the going rate is. If you can find an item from a garage sale or thrift store that is cheap or free and resell it for more on ebay, this is one of the easiest ways to make extra money.