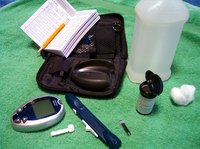 As many as one third of people with diabetes will have a skin disorder caused or affected by their disease, according to the American Diabetes Association. Some disorders that affect diabetics can affect anyone, but diabetics can get them more easily and can have a more difficult time treating them. Some disorders are a direct result of the condition, such as diabetic blisters.
Diabetic Blisters, also known as, Bullosis Diabeticorum are rare but can occur on a diabetic's fingers, hands, feet, legs and forearms. They are typically harmless, painless and will heal by themselves in three weeks or so. The A.D.A. says the only treatment for diabetic blisters is to keep blood sugar levels under control.
If a diabetic experiences more typical blisters such as water blisters from walking in ill-fitting shoes or blood blisters from pinching a finger in a door, there are a few steps that can be taken to help the healing process. Blisters on the feet are very important to care for since circulation to the feet is a concern of all diabetics. Any skin condition including blisters should be taken care of immediately to avoid infection, especially if you have diabetes, the healing process can take twice as long for a diabetic.
Things You'll Need
Carefully wash the blister with mild soap and warm water. Pat it dry. Be careful not to not agitate or tear it.
Disinfect the needle by rubbing it with alcohol.
Gently pierce the blister with the needle. Lay the needle flat on the skin and slide it into the bottom of the blister and carefully squeeze the liquid out. Do not tear the top of the blister away; you never want a blister to be exposed.
Apply ointment to the blister.
Cover the blister with a loose, sterile bandage.