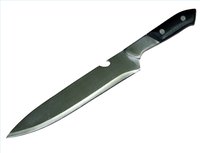 Successful cutlery-sharpening businesses can fill multiple needs for sharpening services. From scissor sharpening to specialty knives, a strong business plan can lead you to long-term business success. The best method of starting a cutlery-sharpening business includes determining your service location, obtaining the proper equipment and supplies, formalizing your business structure and strategically marketing your services.
Determine your location. Location options include local malls, a movable store, near heavily populated neighborhoods, close to a food processor or in close proximity to a restaurant district. A movable store may be the best option for your sharpening services, as it allows you to target different markets easily. For example, you could stop at a beauty salon, butcher shop and fabric store to provide on-the-spot services or provide services upon request. Your business overhead may be reduced by not needing a physical location and you can be highly flexible in your service options.
Obtain sharpening supplies. Buy equipment that allows you to sharpen a large range of products from scissors, beauty shears, saws, commercial knives and home-use knives. A minimum requirement is a commercial sharpener or power grinder. If you do not have a high level of knowledge on the proper use and sharpening process for each piece of equipment, train yourself through books, training classes or through an apprenticeship with another cutlery-sharpening business. You best chance for success is to provide quality work.
Formalize your business. Establish the legal framework for your business. Consider an S-corporation to limit your personal legal and financial liability if there's an accident when sharpening cutlery. Develop a method of recording your sales, customer information and costs. Cutlery sharpening can be a fast-paced job, so it is best to establish a simple method of keeping track of the finances. Consider obtaining a merchant account that allows you to process credit card and debit card transactions. Your ability to accept credit cards can increase your average sales and decrease your need to keep a high amount of cash on hand while you are working.
Market your services. The best strategy for marketing a cutlery-sharpening business is to put your services in locations near people who work with products that need routine sharpening. Consider working with hardware shops, specialty food stores, lawnmower shops and fabric stores to provide specific days when you will provide services to their customers. Advertise in the store through fliers and announcements. Other good locations for business include flea markets, knife shows, butchers, food processors, delis and beauty supply stores. You may find that moving from location to location provides more consistent revenue than searching or waiting for work to come to you.