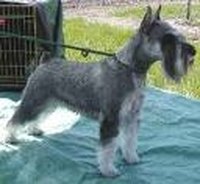 Schnauzers need regular grooming every 6-8 weeks. In between haircuts there is a lot that you can do to make your dog presentable between cuts. By using a pointed and blunt scissor you can trim your schnauzer either just the head area or all over if you can make a time commitment.
Things You'll Need
Steel comb
Pointed scissor
Blunt scissor
Grooming table
By using a scissor and steel comb you can make your schnauzer's coat look like it was just groomed. Start out by combing against the grain of the coat trim as close as you can get but be careful not to injure your dog. The comb acts as a safety device because it keeps the scissor from touching the skin.

The dog can also be groomed half way with the scissor and then if you have a clipper you could finish the dog off a lot quicker on the body and then go over what you scissored too. Between cuts you could also scissor to clean up the beard and face area; this gives you more time between cuts if you take your dog to a groomer.

Between hair cuts scissoring helps to keep the dog looking neat and is easier to care for too. Giving a bath between cuts is also a good thing to do because the coat can get stinky from outside sources. Sprucing up your schnauzer should be a priority to do at least after 4 weeks have passed since its hair cut.