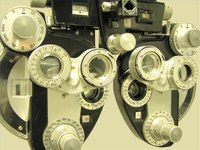 Ophthalmology businesses provide essential services to individuals with visual problems and eye diseases or conditions. Common procedures include cataract surgery, refractive surgery, "lazy-eye" correction and cornea surgery. Whether you want to start a specialized ophthalmology business that focuses on one type of procedure, focus on a specific age group like pediatrics or want a general ophthalmology practice, planning your business is the key to long-term success.
Things You'll Need
Exam and surgical equipment
Personnel
Decide what type of ophthalmology business you want to establish. Use your personal training and preferences to help guide your decision, along with a survey of local ophthalmology services. Try to tie your expertise to a type of ophthalmology service that is underserved in your current market. If it appears your specialty is currently saturated with practitioners, look at the age of the doctors in practice. You may be able to work out a joint arrangement to gradually take over an existing practice, allowing another doctor to ease into retirement. Insurance companies are a good source of information about the availability of ophthalmologists in a community.
Establish your location. Consider a location near other medical specialists to increase referrals, in a high-traffic area for popular laser-surgery practices or in a more secluded area where rent is lower for more specialized services. Make sure the office you select has sufficient waiting room space and examining rooms that are long enough to meet eye chart distance requirements.
Join insurance panels that will allow you to accept insurance plans. A physical location is a prerequisite for joining, so make sure your location is established prior to your application. Acceptance of insurance is critical to consistent revenues and long-term stability.
Purchase equipment. Obtain the basic equipment you need for your ophthalmology business. Basic supplies include an examining chair and vision analysis equipment. Depending on your concentration, you may need lasers and other specialty equipment. Consider purchasing older equipment and furniture that is in top condition to reduce your start-up costs. Look to manufacturers and banks for equipment financing if needed.
Hire personnel. Determine what employee positions are critical when you first start your practice. It is best to start with a lean staff and build up as your patient load increases. Consider using temporary services to provide short-term help and fill in any gaps due to vacation or time-off requirements.
Market your service. Network with doctors who may provide patient referrals, establish a website and become active in your community. The more visibility you obtain for your business, the heavier your patient load will become.