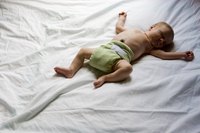 Cloth diapers are coming back into fashion because they are more economical and eco-friendly than disposable diapers. The hassle with cloth diapers is cleaning them; thus, there are cloth-diaper laundering and delivery businesses that take care of this for busy parents. A cloth-diaper delivery-service business makes using cloth diapers simpler for parents and can be profitable for the business owner, as the business itself is relatively simple.
Things You'll Need
Commercial-grade washer and dryer
Baby-safe detergent
Marketing materials
Vehicle liners and waterproofing material
Decide what kind of service you would like to offer: full service or pick-up and delivery only. Full-service cloth-diaper businesses provide the diapers to the clients, pick up the dirty diapers, launder them, and deliver the clean diapers back to the clients. Pick-up and delivery-only businesses do just that; they pick up the diapers, take them to a laundry service, and then deliver the clean diapers back to the client.
If you are offering a full service, purchase a commercial-grade washer and dryer for cleaning the diapers as well as strong laundry detergent that's free of scents, enzymes, fabric softeners, anti-static products, or any other additives, as they may leave residues that can irritate a baby. Bleach is also essential for heavily soiled items, but remember that it can break down cotton fibers. Buy your supplies in bulk from a warehouse club store such as Costco or Sam's Club to save money.When calculating your capacity, consider that a single load should consist of no more than two dozen diapers.
You will need hundreds, or even thousands, of cotton diapers. Newborn babies can go through 80 per week, and sometimes more; requirements decline gradually as babies grow. In addition, there are numerous different styles, including all-in-one, one-size, pocket diapers, etc. You should decide at the outset which choices you'll offer your clients; in addition, you should maintain a sufficient inventory of each type of diaper so that you can quickly serve new clients. Note that if you don't offer one-size diapers, which should fit most babies, you should acquire an inventory of different size diapers to accommodate older babies.
In addition to diapers, you should provide your clients with covered diaper hampers with replaceable liners for soiled diapers as well as a deodorizer to keep their homes from smelling "diapery." Every week, when you pick up the soiled diapers in the hamper liner, you'll drop off a supply of clean diapers equal to the number picked up the previous week, along with a new liner and deodorizer. You'll mark the bags as you pick them up and count the diapers in each when you unload them, to keep track of each client's use.
Clean out your vehicle and line the back section with vehicle mats and waterproof liners. You'll be transporting a lot of dirty diapers as well as clean diapers, so you want to keep your vehicle as clean as possible and protect its interior in case of accidental spills or dirty-diaper bag breaks.
Spread the word about your business by establishing contacts with the maternity/labor and delivery ward at your local hospital as well as with birthing or lamaze-class instructors, day cares and OB/GYN clinics and doctors. This will give you access to potential clients.
Create marketing materials such as fliers, business cards, brochures and even a website to advertise your service and break down your costs or package offerings. Use your contacts to market your business to expectant and new parents.
Your best source of new clients, though, is your existing clientele. As you acquire clients, ask them to refer you to their friends. Offer a referral discount on future purchases to help build your business.