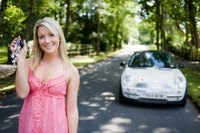 The tinkle of those car keys can symbol freedom for a young driver. To an insurance company it can symbol dollar signs. Young drivers are expensive to insure because they are inexperienced and more prone to accidents. Read below to find out how to get cheap insurance for young drivers.
Things You'll Need
If the young driver is in school, maintain at least a B average. Don't lie either, because many car insurance companies will ask for a fax of the grade report. Good grades reduce insurance premiums for young drivers.
Take a driver's ed course with a classroom and a road component. Just because you can pass the drivers test doesn't mean you know how to drive well. Insurance companies know that the more experience and young driver has the less likely they will get into an accident.
Prevent accidents by setting boundaries for the young driver. For example, texting, talking on the cell phone, or rowdy friends in the car are all big distractions. Setting boundaries will reduce these distractions for the young driver. Accidents are a great way to kiss cheap insurance good bye.
Select the vehicle the young driver uses with care. A brand new Lexus will not have cheap insurance for young drivers. Quality cars that are a couple years old will yield the best insurance results.
Get quotes from multiple insurance companies. If the young driver will be insured with parents, also get quotes for switching all drivers to the new insurance company. Many insurance companies offer multiple driver discounts.
Schedule the insurance to be paid every six months. The deductibles get higher as the payment schedules become closer together.
Relax because you have gotten cheap insurance for your young driver.