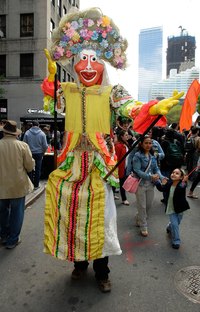 If you've ever been to a New York City street fair, such as the Bastille Day celebration or the Charlie Parker Jazz Festival, you may have wondered what it would take to become one of the vendors. If you have a great idea for a street fair business or even if you're just curious, you can get a temporary license and do the necessary planning for a profitable venture.
Visit a few street fairs to get an idea of what sells and what other people are selling.
Get a New York State Certificate of Authority (state tax identification number) from the state's Tax Department. You can do this by mail or go to Nys-permits.org.
Get a temporary street fair vending permit from the Department of Consumer Affairs Licensing Center, 42 Broadway, 5th Floor, New York, NY 10004. You may do this in person or by mail. There is also a website to do this online. To apply, you will need a completed application (see Resources), identification from the accepted ID list, two color passport-size photographs (which you can have taken at the licensing center at no cost) and a photocopy of your State Department of Taxation and Finance Certificate of Authority. Fees, as of July 2011, are $10 a month. You may apply for more than one permit at a time.
Find and sign up for street fairs at which you would like to vend. A list of upcoming fairs is available at the DCA Licensing Center. You will then need to sign up with the fair sponsors and pay for the spots you want. The three major street fair companies in the city are Mardi Gras Festival Productions, Clearview Festival Productions and Mort and Ray Productions. All three have informative websites (see Resources).
Make sure you have the necessary equipment to vend throughout the day. This can range from tables and display to credit card machines, if you use them. Most vendors will have a 10- by 10-foot tent canopy. Note that you will most likely be right up next to your neighbor vendors, so be considerate.
Get to the fair early on the day of the event so you can find your location and be ready to set up. Traffic will often be rerouted by the time you get there, but sometimes not. Check with the sponsor employees if you have trouble finding your spot.