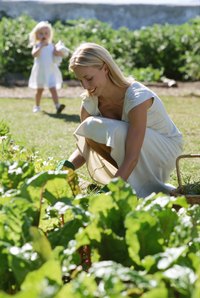 Many families and individuals have circumstances that require them to live within a tight budget. Economic conditions, a new addition to the family, a job change or loss, children's college expenses or retirement can create a drain on financial resources that necessitates tight spending control. Everyone, even wealthy people, must budget and prioritize the unlimited spending opportunities against their limited incomes. Living well with a tight budget can be done with some understanding of your expenses, the right attitude and some clever initiative.
Assess your current expenses and income, then cut out all unnecessary spending. Necessary items differ for everyone, and spending a little on hobbies to prevent down moods qualifies as a necessary item for some people. Factor in your monthly income, monthly standard expenses and an average, placeholder amount for other non-recurring expenses that tend to arise each month. Include a monthly amount of money to deposit into savings.
Have the right attitude about living within a budget. Budgeting feels restrictive to many, and this causes people to ignore their budgets and overspend, even when they know they should be more frugal. Look at budgeting as a challenge to make your financial goals each month. Find clever ways to be thrifty and get more value for less money; go green by recycling and buying second-hand because it conserves natural resources, and feel good about reducing your focus on material possessions and allocating your resources toward things that truly matter, such as relationships.
Keep a list of special rewards for yourself and your family. Living a financially disciplined life has its own rewards, but you can also give yourself and your family something else to look forward to, such as a vacation or special treat if spending comes in under budget or you hit savings goals, for example.
Buy fewer items that are made with better-quality materials. One pair of well-made pants in a quality fabric lasts much longer than poorly made, thin fabric pants from the local discount store. Fabric dye can refresh the color of better clothing items that have faded in the wash. Wait for higher-quality items to go on sale, and get significantly more value for each dollar you spend.
Grow some of your own food. A garden does not have to take up a lot of space, and tomatoes, squash, eggplants, artichokes, beans and many other vegetables grow well in small spaces. Sell excess produce at a local farmer's market, gift it to neighbors or trade it for other goods or services you need.
Find free or low-cost entertainment alternatives, such as enjoying walks in the park, visiting museums on "free" days, or renting movies for a home-theater night.