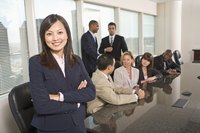 A smoothly run board meeting can boost the confidence of directors in their leader. By contrast, a scattered, inefficient meeting can cause the directors to question whether the leader is capable of not only running the meeting but the organization itself. Luckily, several factors that influence perception of the meeting are under the leader's control, as long as she allows herself at least several weeks to prepare.
Create the agenda and "board book." The agenda -- which should be titled with the name of the meeting, the date and location -- should be split into a consent agenda and a discussion agenda. The board book should include minutes from the last meeting, reports from company leadership, financial information and any other information intended for board discussion.
Send the agenda and board book to each member of the board at least two weeks before the meeting.
Follow up with and solicit feedback from each member about the agenda and the board book. Respond to any questions or concerns from the board about any of the material.
Reserve the meeting area for at least two hours prior to the start of the meeting. Complete any presentation technology testing or reviewing handouts an hour before the meeting begins. Use the hour before the meeting starts to greet and welcome board members as they arrive.
Learn and memorize details about the current and next board meeting. Be able to quickly and confidently respond to questions about the current meeting, such discussion procedures, as well as the time and location of the next meeting.