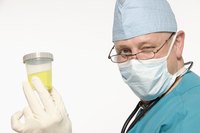 Doctors are most likely to order a 24-hour urine sample when protein levels in the urine and kidney function need to be checked. A urinary tract infection may also be discovered during the test. To complete a 24 hour urine test, collect all your urine starting with the second urination of the first day and ending with the first urination of the second day.
Things You'll Need
Place a small sterile container and the container provided by your doctor's office or lab near the toilet so they will be ready when you begin collecting it. This container makes it easy to verify the total urine output over a 24 hour time period.
Urinate in the toilet after you wake up on the first day of your 24-hour period.
Urinate into the collection vessel the second time you urinate. Mark the time of day.
Place the collection container in the refrigerator or a cooler with ice to keep it cold until it is delivered to the lab or doctor's office.
Urinate into a small sterile container the next time you urinate, and add the urine to that in the collection container. Repeat every time you urinate
Collect the first morning urine the following day and add it to the collection container. This is the last sample you collect. Mark the time.
Deliver the container to the lab or doctor's office.
Have a blood sample drawn at the doctor's office, according to your doctor's instructions.