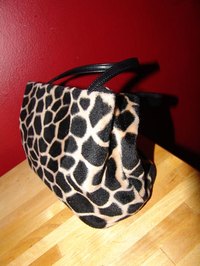 Imagine opening your favorite fashion rag and seeing one of Hollywood's hottest starlets with your handbag slung stylishly on her shoulder. As far-fetched as it might seem, it can happen. There are no testing or licensing requirements in order for you to become a fashion bag designer. Learn the skills, and you're basically in business.
Things You'll Need
Sewing machine
"Amethyst Handbag Library"
Computer
Study your target market. Will you be selling functional messenger bags to city dwellers or hobo bags for tweens? Where does your target market shop? What do they put in their bags? How much do they pay on the low end ... and what about the high end? Even if you haven't stitched a single bag yet, knowing what your target market wants will help you formulate the basics for your future line.
Take a handbag design course. A hands-on class gives you important pattern-making and detailing skills that you'd normally have to learn through trial and error on your own. If you're in the New York City area, the Fashion Institute of Technology offers courses on handbag design and construction. Outside of New York, the Art Institute has a handbag design course as a part of their accessory design program. In Italy, Polimoda provides a similar handbag design course that's taught in English.
Get a copy of the "Amethyst Handbag Library." "Amethyst" is used by professional handbag designers to create new designs. It works with Adobe Illustrator or Photoshop and features 40 years worth of handbag silhouettes. You can mix and match handles, textures, colors and details like stitching and cut-outs.
Experiment on your own. Get a copy of "Making Leather Handbags and Other Stylish Accessories" or "Designer Style Handbags: Techniques and Projects for Unique, Fun, and Elegant Designs from Classic to Retro," pull out your sewing machine and try making your own fashion bags. Sometimes going against the trends will help you create the next big thing.
Promote your fashion bags on Etsy. Etsy is a well-known marketplace for people who sell handmade goods. You determine the price, take pictures of your bags and write the descriptions. There's no cost to open an Etsy store. You pay a fee each time you list a product and another fee whenever a product sells.