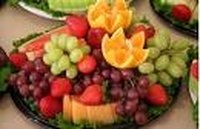 A negative calorie diet can be a great way to lose a few pounds. Some call it a fad diet, but in reality it's simply another technique. In fact, there are people who swear by it and have lost weight safely. It works on the premise of eating more to lose weight. Say what! Sounds too good to be true, but is it?
To eat a negative calorie diet, know that you will have to cut back on foods that you normally eat. This is typical of any diet you do. It's not a diet if you can keep on eating the same way you have been. The negative calorie diet will work if you follow it, so if you're serious about weight loss then let's get started.
Understand that calories are what matters when it comes to losing or gaining weight. The foods on the negative calorie diet are low calorie, which means you can eat more than if you eat foods high in calories. This way you stay full and are not hungry. Hungry people overeat and gain weight!
Negative calorie foods also take more energy to digest, so you can burn more calories just by eating. This is where the fad diet or controversy comes into play. Some people refuse to believe it! However, I believe it, because when you eat foods that are high fiber or of substance they do take longer to digest and the body has to use more energy/calories to do it.
Laying a foundation for a diet is important, so that you know how it works. Then, you can decide if it's something you want to try. By now you may be wondering what foods are on a negative calorie diet? Don't worry; we're coming to that.
Prepare to eat a vegetarian diet. All the foods on the negative calorie diet are fruits and vegetables. Don't panic it won't kill you. I have been a vegetarian for over 30 years and am no worse for the wear. Its fine to eat other foods, but it will take longer to lose the weight.
Start by cutting back on meat and other high fat, high calorie foods. It is a good idea to do a detoxification. This way you start fresh and will have some discipline under your belt. See resources below for details on how to detoxify your body.
Negative calorie diet foods: Fruits- Watermelon, strawberries, tangerine, pineapple, grapefruit, apples, cantaloupe, orange, mango, peaches, raspberries, blueberries, cranberries and papaya.
Vegetables: Carrots, cauliflower, broccoli, celery, cucumber, tomato, lettuce, spinach, green beans, turnips, beets, asparagus, chili peppers, endive, gardencress, onion, garlic, radishes and cabbage.
NOTE: If you have been living an unhealthy lifestyle then you should ease into the negative calorie diet and do a detoxification first.