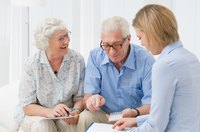 Those who need money the most are often unable to obtain it. If you've had credit problems, you know what it's like to have your credit score used against you. The good news is that you can still get a personal loan without having stellar credit or collateral, such as home equity.
Review and Dispute
Having a low credit score doesn't always mean there's no hope. Pull your credit report by visiting the websites of each of the three major credit bureaus -- Equifax, Experian and TransUnion. You can receive one report from each every 12 months for free. Look for anything erroneous, particularly negative information. Dispute any mistakes you see on your credit report by following the instructions on the site, then wait to hear back from your creditors within 30 days. You might think disputing these facts won't mean anything in the long term. However, you can boost your credit score significantly simply by removing one or two negative items.
Avoid Scams
There are many lenders that claim to specialize in lending to people with bad credit. Unfortunately, not all of these groups are reputable. Look into any potential lender before applying for a loan. Check that the lender has proper contact information, has positive reviews online and doesn't display the signs of an advance-fee scam. Avoid doing business with a lender that looks shady. Giving your personal information to a scammer can result in robbery and identity theft. In such a situation, a bad credit rating would be the least of your problems.
Rapid-Fire Applications
Make up a list of the banks with which you'd like to do business. Submit all your applications as close together as possible, preferably within two weeks of one another. Credit inquiries hurt your credit score, but multiple loan applications within that 14-day period count as only one inquiry. This minimizes the chance of getting declined for a preventable error.
Find a Co-Signer
One great way to improve the likelihood of getting approved for a personal loan is to ask a friend or family member to co-sign for the loan. Having a co-signer means your income and creditworthiness is combined with that of your co-signer, giving your approval chances a major boost. However, should you fail to make loan payments on time, the credit record of both you and your co-signer will suffer damage.
Hidden Fees
With bad credit, you'll likely be subject to higher interest rates. Some banks try to trick borrowers by offering a low interest rate, only to make up the difference in fees. Credit unions and conventional banks generally don't charge administrative fees, while companies that deal specifically in personal loans may charge a setup or loan closing fee. Less reputable lenders can also charge fees for actions that the borrower might overlook, such as paying off the loan early. Read the fine print carefully before signing any loan agreement.
Repayment
As you consider your loan options, consider your ability to make good on your loan payments. If there's a chance you might not be able to handle the load, be honest with yourself and think twice about accepting the loan. In the absence of any collateral, the lender has the right to sue you for the amount of the loan. Don't open yourself up to this risk if you're not 100 percent sure you can pay the loan back.