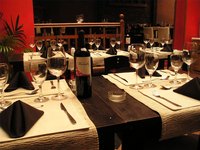 A carefully designed dinner invitation can not only set the tone for your event; it can reflect on the quality of your business. As you think about the design for your invitations, consider what type of dinner you are hosting, how formal it will be, and your clients' interests.
Use your company's logo and color scheme on the invitation. This will ensure that your client immediately recognizes who the invitation is from and will convey a professional tone.
Choose high-quality materials. Handmade papers, heavy cotton-based stock, parchment, and rice paper all add interest and class to a simple dinner invitation.
Integrate fabric overlays, ribbons, or small metal charms into your invitation design. If you are asking your clients to a formal dinner, three-dimensional embellishments can add elegance to your invitation.
Include a small gift with your invitation. To show your appreciation for longstanding clients or to impress a new contact, send a gift basket, bottle of wine, or tickets to a local sporting or theater event along with the dinner invitation.
Address the invitation to specific persons. If you are hosting a large dinner, you will have a greater chance of impressing your clients if you address your invitation to a specific person rather than a general title or group, "managing partner" or "human resources department." Verify the spelling of each client's name and their official title before sending out your invitations.