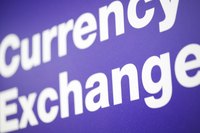 Because of its location, Seattle is a hub of activity for international visitors. When entering the United States, visitors often find they need to change their nation's currency for American dollars. You can do this quickly and easily in several locations throughout Seattle.
Exchange your money at one of the currency exchanges located at the airport. If you are flying into Seattle, this is probably the most convenient choice.
Trade out your currency at any Seattle bank. Nearly all banks will exchange the currency for you but will most likely charge you a small fee to do so if you are not a customer. Look for a credit union, which will not charge a fee to exchange your money.
Use an ATM to get American dollars. At least two banking networks allow you to pull money from your overseas accounts when using their ATMs. Check with your bank before leaving home to see if your ATM card will work when you are in the United States.
Exchange your money at a currency exchange store. These are located throughout the city. Ask at your hotel for directions to the nearest one.