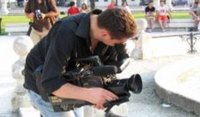 With the availability of affordable video and editing equipment, turning a hobby into a small videography business is more possible than ever. And videos are everywhere nowadays---from weddings to bar mitzvahs to business events and entertainment venues. Even the Internet is populated with how-to videos, webisodes and social-networking videos. According to the Bureau of Labor Statistics, self-employed videographers make up 17 percent of all television, video and motion picture camera professionals with the job outlook keeping pace with the economy.
Set up shop. A small videography business needs as little space as an extra bedroom or basement. However, a separate business location presents a more professional appearance and provides space for editing and studio facilities. In either case, make sure to get a local business license.
Keep up on industry news and changes. Take classes on the newest technologies and techniques. Visits trade shows and join videography organizations like the Wedding and Events Videographers Association (WEVA) or the National Association of Professional Wedding Videographers (NAPWV).
Invest in professional quality video, lighting and editing equipment. If buying the best equipment is out of reach at the start, look to rent the needed gear for each shoot. Camera- and rental-equipment companies are usually found in mid- to large-sized cities.
Decide on a specialization, such as providing professional videos to family-type events like weddings, bar mitzvahs or funerals or focusing on business and community events like conferences and plays. Some people earn money as stringers, shooting breaking news or creating how-to videos for Internet sites like eHow. Another option is to be a generalist and work on a variety of projects.
Determine what to charge. Establish pricing by checking out the going rate for local videographers. Call around, and don't be afraid to ask questions. Once pricing is determined, put together several price plans with different levels of coverage. For instance, offer a an economy wedding package based on fewer hours at the event, less shots and basic editing and a more comprehensive package with more time, more shots and more elaborate editing techniques.
Create a sales contract that sets out what is and isn't in the videography service and how payments are structured. Check the Internet for videography business sites or with professional organizations for samples.
Get customers by spreading the word to family and friends. Also, volunteer to film local charity or school events to create visibility. Pass out business cards and brochures and create a Web site.