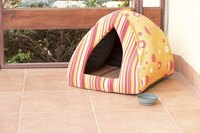 Outdoor cats, feral or domestic, need suitable shelter in cold weather. They may sport fur coats, but their hair isn't enough to keep them warm when temperatures plummet. You have a few options for heating an outdoor cat enclosure, and you can employ a few methods to help cats retain heat in an unheated shelter.
Insulated Enclosures
When you're purchasing or constructing an outdoor cat enclosure, insulation is paramount. Some commercially available cat shelters use foil insulation, which help kitties retain body heat. A thick Styrofoam container with a cat-size hole cut out provides insulation and warmth; keep it off the ground with bricks or lumber, and provide plenty of bedding inside. Consider a shelter large enough for three to five cats, since a huddled mass of felines produces significant body heat. Alley Cat Allies recommends a shelter at least 18 inches high with floor space of 2 feet by 3 feet. Provide a small doorway, which prevents excessive drafts and is inaccessible to larger species.
Heating Pads
Perhaps the easiest way to heat an outdoor cat enclosure involves installing a heating pad. Various outdoor-specific cat heating pads are available at retail. If the cat enclosure is close to an outside outlet, you can use a plug-in heater specifically designed for outdoor pets; if the enclosure isn't near an outlet, you can get a battery-operated heating pad. Some pet heating pads are weight-sensitive: They automatically activate when a pet settles on them and deactivate when the pet leaves. Another option is a microwavable heating pad. Stick this warmer into the microwave briefly each day, then slip it into a protective cover and place it in the cat shelter. It retains heat for up to 12 hours.
Warm Bedding
Straw makes a good bedding for outdoor cat enclosures. Not only it is warm, but is doesn't take heat away from Kitty's body. Straw has long been used for livestock bedding. Make sure you purchase bales of straw and not hay -- the latter is fodder, and absorbs moisture. Hay is green and straw is yellow or golden. Generally, straw isn't as expensive as hay. Straw makes more sense as bedding than old towels or blankets, which get wet easily and require laundering.
Other Heating Options
For safety purposes, don't use lamps that aren't designed for outdoor use in a cat enclosure. Don't use any heating element that a cat can knock over, especially if you're using bedding as flammable as straw. One option is using poultry brooder lamps, available at farm supply stores. These suspended lamps require electricity in the enclosure, as does another option, a wall-mounted indoor/outdoor heater.
Enclosures for House Cats
If you want to provide your indoor cat with safe outdoor access, you can create an outdoor cat enclosure attached to your house. Your cat gains access through a window or door. Since your cat lives indoors in cold weather, providing a heat source for such an enclosure isn't as critical as one designed for strictly outdoor cats. You can use heating pads for this type of setup, but constructing the cat enclosure on the south side of your home will help it retain heat naturally. You might try installing a solar panel on the cat enclosure to keep it warm in chilly weather.