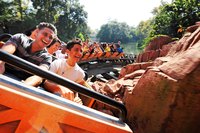 Make your vacation trip to Walt Disney World in Orlando, Florida, a little extra special with a customized special keepsake map. The resort offers a free mapping service for all four Walt Disney World Parks. Order free, full-color personalized maps to use on your trip, give as a gift or keep in a scrapbook. You can also print copies of the maps on your home printer.
Go to the Walt Disney World website and, if you have already registered on the site, log in. If you aren't registered, click "Register" sign up. You can't save your map unless you are logged in.
Click the "My Disney Vacation" link and then follow the link to create free customized maps.
Customize your park maps from scratch, choose a predefined map of top attractions or download a resort map. You can add the attractions you are most interested in visiting, including restaurants. Add a theme and save the map when you are happy with your selections.
Print your maps at home or order a free set from Disney. Allow two to four weeks for the maps to arrive. They are 14-by-20 inches and include stickers so you mark rides, shows or planned meeting spots.