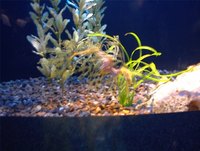 A beautiful aquarium environment can be beneficial for both the resident fish and the aquarium owner. To reduce the stress on your pet fish, create a tank with plenty of places to hide and explore. Plants and rocks similar to their natural environment will also help them adjust to living together. You can create this environment out of household products; just be sure to boil them thoroughly in water and avoid anything with sharp edges. When purchasing decorations from a pet store, avoid cheap products that use hazardous paints that could leach toxins into the water.
Things You'll Need
Buy artificial decorations at pet stores. Any aquarium decorations purchased at pet stores should be safe for fish tanks. If you are not sure, ask a sales associate and check the tag, which should be labeled "aquarium safe."
Use river stones. The bottom of the tank should be filled with gravel or stones. Stack stones on top of each other to provide hiding places and a firm place to hold plants. You can use stones from freshwater sources as long as they have been boiled before being placed in the tank. This removes any harmful bacteria that may be lurking.
Find genuine driftwood. Driftwood can be a beautiful authentic addition to a personal aquarium that will give fish a place to hide in holes and crevices. Be sure to clean it with boiling water and scrub it down thoroughly.
Try colored glass. Pieces of colorful glass are a nice to touch to any fish tank. They provide a differentiation in color and small places for fish to hide. Take care not to use any pieces with sharp edges, and be sure to boil before use.
Build caves out of clay pots. Cut a clay pot in half and smooth the rough edges with sandpaper. Lay it on the bottom of the tank or prop it up securely against a wall. Your fish will love to have a place to explore or mark territory.
Rinse all decorations with warm water before placing them inside the tank. Do not use soap or any chemicals because they could be hazardous to the health of your fish.