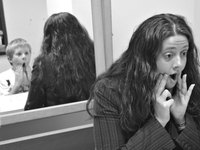 Speech therapy is treatment of communication and speech disorders. The method used depends on the disorder, but it might involve physical training to build muscles used in speech (oral-motor work), speech exercises to enhance clarity or sound production methods to develop articulation. A person needs a master's degree for most speech-language pathologist jobs. Additionally, a passing score on the national exam for speech-language pathology is necessary. Other requirements are nine months of post-graduate professional clinical experience and 300 to 375 hours of supervised clinical experience. Graduating from an accredited program might be advantageous in getting a license and might be needed to get a license in some states.
Things You'll Need
Place to conduct business
Market research
Computer
Speech therapy tools
Marketing material
Begin your business out of your home. When starting out, you probably don't have time or the means to establish a regular office, so starting off in your home keeps your costs low and carries a lower level of risk. Set up a room where you can't be easily bothered or distracted.
Know your target market. Figure out who you want to work with, for example, stroke survivors or preschool children, and find the best way to target them. By doing this, you will have an edge in your marketing efforts, particularly because many people want to work with an individual who specializes in a particular field.
Determine your costs. You will have to spend money on a home business license, your business name (if you choose to register one) and logo, bookkeeping software, business cards, tools for speech therapy and your website. You will also have to spend some money on gasoline and mileage if you plan to visit clients.
Create your place on the Web. Make sure potential clients can quickly find information such as what you do, your qualifications and how much you charge. You can set up website or blog. Some free places to set up a blog include wordpress.com and blogspot.com. Also, tinyeye.com specializes in creating websites for speech therapists.
Network and promote. Create business cards and give it to everyone you know. Be sure to include all of your contact information, your logo and website address. Additionally, use your current network and get involved with organizations related to your business.