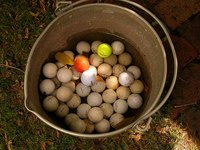 According to Cybergolf, an estimated 300 million golf balls are lost every year. Rather than let these balls sit at the bottom of a pond or lake, you can actually retrieve and sell them. Used golf balls usually sell for between 25 cents and $1 a piece, depending on the condition and brand. While individual earnings may vary greatly, there is no doubt one can make money by retrieving and selling lost golf balls.
Things You'll Need
Digital camera (optional)
Visit your local taxation and revenue office. Find out if you need any type of license to start your business. Most states will probably require you to apply for a general business license if you will be selling any of the golf balls locally.
Meet with the manager or owner of any golf course you intend to work at. Before you purchase any tools or even develop a game plan for selling golf balls, you need to make sure you will have a legal means of acquiring them. Taking golf balls from clubs or courses without permission could be considered trespassing.
Find some clients to sell the golf balls to. It doesn't matter how many golf balls you can find if you can't sell them. Internet marketplaces such as eBay or Amazon.com give you an automatic outlet for selling, but you need additional clients. Check with some of the golf courses or country clubs you visited to see if they would be interested in purchasing some of the golf balls you retrieve. The more potential clients you have, the better your chances are of making a living.
Purchase the supplies and tools needed to retrieve and store the golf balls. At the very minimum you will need a golf ball retriever. You will find the majority of your golf balls in water; a good golf ball retriever usually costs less than $50. The best golf ball retriever will have a long rope and a wide mouth to catch more golf balls when you reel it in. A small wagon or storage container with wheels will also be helpful; it will allow you to store the golf balls and easily transport them back to your vehicle. Some experienced golf ball retrievers use scuba gear to retrieve golf balls; while this is an effective method, it isn't recommended for the beginner.
Begin retrieving as many golf balls as you can. It will help you to establish a weekly retrieving schedule if you have several courses or clubs you are working at. Once you retrieve a batch of golf balls, clean them up and inspect them. Heavily worn or damaged balls may be worth very little or nothing. Group the balls together by brand and sell them in batches of 10 or more.