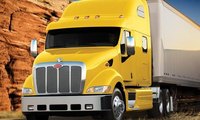 Transportation of goods is essential to everyday life. You overlook the fact that the food you eat, clothes you wear, and linens you sleep on were transported by truck. Even in a recession, trucks must transport goods from one place to another. Starting a trucking brokerage is not easy money; it is hard work, but the rewards are numerous if you follow the rules of the FMCSA.
Things You'll Need
Federal Tax I.D. Number (EIN number)
MC Number (Motor Carrier Number)
DBA or " Doing Business As" Name
Surety Bond or Trust Fund
Broker Authority (Form OP-1) / BOC -- 3 (Processing Agent)
Business Account at a bank
Advertise your business
Internet
Fax Machine
Dedicated Fax Line
Phone
Dedicated Phone Line
Trucking Broker Software
Paper
Filing Cabinet
Office Space
Computer
Promptly apply for a Federal Tax I.D. Number (EIN number). It can be obtained through your local IRS field office; call the IRS business hotline, (800) 829-4933, or log on to the IRS Web site. You will need this number to open a business bank account or to apply for a business line of credit.
Obtain your Motor Carrier Number (or MC number, as it is sometimes called) as soon as possible. The FMCSA Web site is the best place to obtain the MC number without extra fees. The MC number gives you the authority to transport goods across the United States. You must have an MC number, and always make sure that the companies you transport with have a valid MC number.
Deciding on a DBA (or Doing Business As) name is often the most difficult part of the entire Broker process. It is a fictitious name that your company will be using to do business with other companies. You will use this name on all forms, including permits, licenses, and any business application. You should apply for a DBA at your county clerk of courts.

Research will help you decide which type of bonding you will need: surety bonds or trust funds. These bonds show a proof that they are able to pay the truckers or their companies that they use. If the broker fails to pay the truck, the bonding company will be liable for the debt. Surety bond payments are based on your credit and range from $500 per year to a one-time fee of $10,000. You can speak to your local bank; it may deal with trust funds.
Your Broker Authority or Operating Authority, form OP-1, gives you the right to become a broker. It must go through the FMCSA at a $300 cost.
The BOC-3 is a $30 processing agent fee that goes hand in hand with the Broker Authority.
Understanding the different BBAs (or Business Bank Account) rules for all banks is difficult because the rules are different for each company. The best advice to give is to write down the features you would want in a business account, like longer hours for deposits, open weekends, overdraft fees, how much of your money is covered by insurance, etc. Many banks have both person and business accounts, so if you are comfortable with your current bank, you can start a business account with your personal bank.
Promote your business as soon as you are up and running. Create a Web site that states everything you can think of that would help companies trust you and keep you self-protected. Load boards are a good start also until word of mouth connects you with repeat business. Always place a link to your Authority and MC number on your site so that companies can see you are legitimate.
Start your business on the right foot. Have your equipment ready and error-free from the start. A room in your house can be used as an office until you can move to an office outside of your house. Make sure you are free of distractions while working. A computer with high-speed internet connection, phone and fax machine with separate connections, filing cabinets, files, and paper are a good start. Make sure to use some kind of broker software program to keep track of every aspect of your business. There are many broker software programs to choose from, so you want to pick one that is thorough yet compatible with what you feel comfortable with using.