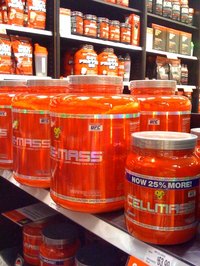 Using creatine as a supplement to your workout and diet has been clinically shown to increase strength, muscle mass, and endurance. Creatine is a popular nutritional supplement for all levels of athletes. Arguably the most popular and effective creatine supplement on the market is Cellmass, the award-winning supplement created by BSN and winner of the Bodybuilding.com 2005, 2006, and 2007, "Creatine Product of the Year." Here is how to use it:
Things You'll Need
6 ounces of water
Cellmass
To drink Cellmass dissolve one scoop of powder in four to six ounces of cold water by stirring briskly.
Take one scoop of powder within 30 minutes of finishing your workout on training days. A second dose may be taken either six to eight hours before or after you workout.
Take a serving in the morning on an empty stomach on non-training days. A second serving can be taken six to eight hours after your first serving.
Use Cellmass on a set cycle. Use it daily for three months, then stop for one month. This is done so your body does not suppress your own natural creatine production. The cycle can then be repeated until desired results are achieved.