Online mail-order cookie businesses are an effective way to earn a good living at home. The process involves perfecting the recipes, establishing a business, following government regulations, designing a website and drawing customers to it, and shipping the cookies. Developing delicious cookies and knowing what is involved before you begin to sell them are the keys to success.
Customers purchase online cookies for gifts, college students, hospitalized relatives, and holidays. A loyal customer is your best ally.
Things You'll Need
Investment money
Cookie recipes
Ingredients
Sanitary cooking area
Food safety license
Business license
Website
Shipping supplies
Marketing plan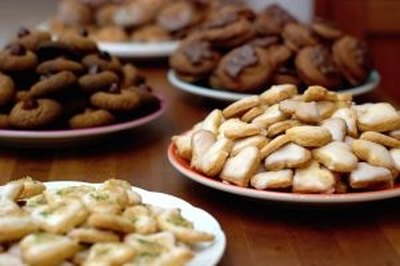 Step 1
Test the cookies. Start with a few recipes and test them with your family, friends and neighbors. Take their advice. Find out which recipes are the best and what dietary concerns they have.
Step 2
Obtain a food safety license from your state or rent a commercial kitchen. Check your state laws regarding food handling and certified commercial kitchens. Some states (such as New Hampshire) allow you to sell up to $5,000 of baked goods with the purchase of a $25 homesteading license. Other states will require you to certify your kitchen area, which may mean jumping through a lot of seemingly difficult hoops.
Step 3
Look at all the financial considerations to starting an online cookie business. You will need to purchase ingredients, a website, shipping supplies, and more.
Step 4
Obtain a quality, appealing website. It must be easy for customers to navigate, professionally designed, and include information like prices, shipping, nutritional values, customer reviews, and payment and return policies.
Step 5
Build traffic. In the beginning you may want to consider purchasing some pay-per-click advertising. Consider adding search engine optimized articles about cookies to help draw organic traffic to your cookie site. Consult whoever designed your website for help if you are not web-savvy or technically oriented.