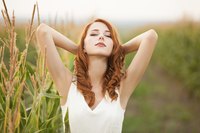 Your hair goes through a lot on a daily basis, and sometimes it needs a good detox to strip away all the gunk and grime. The overuse of chemicals in hairstyling and coloring and environmental factors like wind and sun can cause your hair to become dry, brittle and downright in the dumps. You could go to a salon for a hair detox treatment, but it will cost you a pretty penny. Instead, whip up your own homemade hair detox to put some bounce back into your tresses.
Things You'll Need
2 bottles with lids
1 tablespoon baking soda
1/4 cup apple cider vinegar
Essential oil
Pour 1 1/2 cups of warm water into a bottle. Add 1 tablespoon of baking soda. Put the lid on and shake the bottle to dissolve the baking soda in the water.
Pour 1/4 cup of apple cider vinegar into a separate bottle. Add 1 cup of warm water and a few drops of your favorite essential oil to mask the vinegar scent. Put the lid on the bottle and shake it.
Apply the baking soda mixture to your wet or dry hair, starting at your roots and moving down through the tips. Massage the mixture into your scalp and your hair.
Leave the baking soda mixture on your head for five minutes. Rinse well with warm water.
Apply the vinegar rinse to your hair. Keep your eyes closed while applying the mixture to avoid getting it in your eyes. Distribute the vinegar rinse through your hair so all the strands are covered. Wait about one minute before rinsing your hair with cool water. Avoid using warm or hot water with the vinegar rinse; cold or cool water closes the cuticle and locks in moisture.