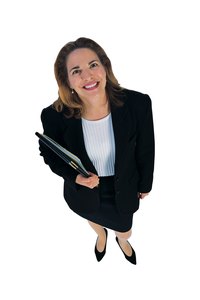 Claims adjusters examine insurance claims and determine whether an insurance company needs to pay a claim and at what amount. Claims adjusters can make good money — the median pay nationwide was more than $58,000 in 2010, according to the Labor Department. To start a career as a claims adjuster, you may need a state license. States' license requirements differ. Texas, for example, requires that all residents who work as adjusters be licensed, and requires applicants to take a certified course or pass a test and be fingerprinted to get the license. States such as Ohio and Wisconsin require no license at all.
Use the the National Association of Insurance Commissioners' online map to find the website of the insurance department of the state where you want your license. Simply click on the state on the map to get to the insurance department you need. Click on licensing links on the the state's insurance department's website to determine the state's requirements for a claims adjuster license.
Determine if the state you where you want to work recognizes a license from another state, if you hold a license from another state. The state where you want to work may not recognize licenses from all 50 states.
Access, through the state insurance department website, insurance exam study guides for the exam, if the state requires applicants pass an exam. Companies such as Thomson-Prometric and Pearson often administer the exams. Follow the state's steps for registering for the exam and take the test.
Follow the directions on the state insurance department Web site and apply for a claims license, once you have passed the exam. The application may ask you to indicate what line you would like the license to cover, such as property, casualty, auto, commercial, all lines or all lines except workers' comp. The categories differ from state to state. Pay the fee for the license when you apply. A typical fee is $50 to $75, but can go higher than $150. There may also be a fingerprint fee ranging from $20 to $30.
Check to see when you'll have to renew the license and check the continuing education requirements the state has and make sure you comply. Determine if your state has state-approved insurance education providers, in case you need to contact them for required continuing education.