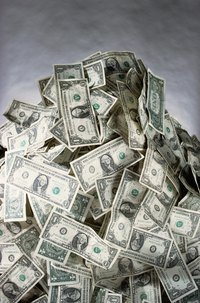 Aside from winning the lottery, there is no certain way to become a millionaire overnight. However, you can achieve that seven-figure net worth with discipline, hard work, determination and time. If you'd like to claim your piece of the American dream, you must take a smart approach to your personal finances.
Start a business. Entrepreneurship is a common denominator among many self-made millionaires. This goal comes with its own set of hazards and precautions you will need to take, but a successful business will put you on the path to becoming a millionaire.
Pay off debts, and live within your means. Spending all of your money on flashy clothes and cars may help you look like a millionaire, but it certainly will not help you become one. Millionaires take care in how they spend their money and often live well below their means. Strive to reduce your expenditures and increase your saving and investing.
Become a habitual saver. Make it your goal to save at least 10 percent of your after-tax income every pay period. You'll be surprised at how quickly your money will accumulate. The majority of millionaires are good at saving. They don't spend their money on frivolous items but instead choose to invest in a secure financial future.
Make smart investments. Investing in the stock market and the real estate market involves taking risks, but doing so provides the best chance for the greatest return. Invest cautiously, but make sure you're poised for profit.
Keep a budget. It is difficult to manage and accumulate your money without knowing the basics. Your budget should detail the amount that you spend monthly on necessary expenses as well as discretionary expenses, how much you save and the value of your investment portfolio. You have to know exactly where you stand so you can watch your wealth grow.