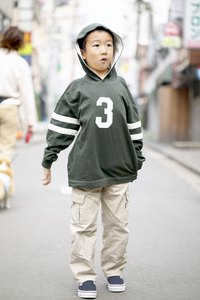 Children wander away from places like grocery stores or playgrounds every day, leaving parents frantic with fear. The horror is fortunately short-lived since most children are quickly found. Still, the number of children reported missing annually to authorities numbers 800,000 in the United States, while in Canada the number exceeds 63,000. So when you travel with your children, whether locally or abroad, you should carry a child identification card with you. You can then give the card to the authorities searching for your child if she becomes lost or missing. Several online businesses will make the ID card for you, but you can complete the task at home with your computer.
Things You'll Need
Printer
Word-processing program
Quality card stock paper
Lamination sheets
Open your word-processing program and create a new text box. Resize the text box to the size card you want. A business card size ID is 3 inches by 2 inches, but you should make the card somewhat larger to include a photo. Ensure that your text box has a border. Microsoft Word, for example, has a default black border around the text box.
Type into the text box the child's vital information. Include his name, birth date, gender, height, weight, hair color, parents' contact information and photo.
Insert the photo. On your word processor, make sure your cursor is in the text box. Look at the tools available to you. You may have to click on "Insert," "Image" and "From file." Find a picture tool bar, click on "text wrapping" and select "tight" or a similar command. You can then drag a picture to the left or right side of the card until it is aligned with your text. You should be able to use the "align right/left" buttons to manipulate the picture's location in the text box.
Consider making a "back side" of the card by creating another text box that is the same size as the original text box. You can copy the information on the front, delete the text and then enlarge the photo to fill the space.
Print your card. Use a good quality card stock that will work in your printer. Use color and the highest quality setting if you are printing a photo.
Cut the card or cards out along the text box border lines. Use lamination sheets to seal your child's ID card permanently. If you have printed a back side, align them and keep a quarter inch margin around your laminate sheet. (Make your laminate sheet a quarter inch larger on all sides when you cut it out.) This will ensure the two cards are sealed together.