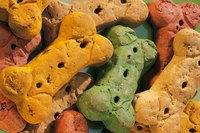 Dog treats are great for any canine owner to reward his dog in training or for good behavior. Believe it or not, making your own homemade dog treats is simple. When you make your own dog treats, you know your pet is getting food that is good for him without the preservatives and additives found in commercial treats.
Things You'll Need
14 oz. raw liver
1 1/2 lbs. White Flour
8 oz. uncooked oatmeal
3 bouillon cubes (chicken)
1 cup of water
2 eggs
Preheat your oven for about 10 minutes at 350 degrees. Just like with any other food, your homemade dog treats will cook much more evenly in a preheated oven.
Apply a layer of cooking spray or oil to a few cookie sheets. Depending on how big you want to make the dog treats, you will need two or three medium-sized cookie sheets.
Run the liver through a food processor and place in a large mixing bowl. Thoroughly mix in your oatmeal, flour, eggs, bouillon and water. At this point your mixture should be sticky, but not overly so.
Form the dog treat mixture into small biscuits and place them evenly on your cookie tray. Bake the dog treats for about 45 to 60 minutes.
Store your finished dog treats in an airtight zip-close bag and place them in your refrigerator.