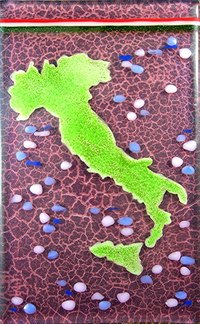 If you want to plan your own itinerary to Italy, and save money in the process, it can be done, and you can have fun designing the trip.
The Italian peninsula and islands are surrounded by several smaller seas, and the country is richly endowed with art, architecture, fashion, food & wine. These factors make Italy one of the most appealing destinations in the Mediterranean.
Whether you want an adventure trip, honeymoon, tour of the Vatican or Tuscany, or general sightseeing, I'll give you the tools to design and plan a dream trip to Italy... and save money.
I recently booked a magnifico 16-day trip to coastal Tuscany (along the Ligurian Sea) and Venice (on the Adriatic Sea) without assistance (or commission fees) and augmented it with walking tours and boat tours. You can plan your own itinerary without joining a week-long tour group or using a travel agent. Oh, and you can save money doing it your way!
Things You'll Need
A valid passport
A time frame for travel
An idea of the regions and locations you want to visit
Internet access for browsing
~ Look at Guidebooks and Road Maps of the Italian Peninsula and Seas ~
To start, the Italian Government Tourist Board has a great website and publications that will help you learn the different regions and what each has to offer.
Study the lay of the land a bit, especially if this is your first trip to Italy. There are 20 different regions or provinces. Are you interested in the Lake region up north? The Italian Riviera? Venice? Rome? Milano? Tuscany? You can see several areas in one trip with careful planning.
Browse Italian travel guidebooks at local bookstores and online. Make a running list of villages, resorts, museums and galleries, parks, thermal spas, islands and other destinations. I purchased a photographic guide to Tuscany and used it to start my short list of villages, towns and tourist attractions for that part of my trip. Calculate driving or rail distances between your points of interest. You'll need that for step #3.
~ Consider the Seasons and Climate When Planning Your Trip ~
Italy has wide-ranging climate from one region to another and different times of the year. The best times to travel as far as weather goes are April - June and September - October. July and August can be extremely hot. Fall is the rainy season. December to March is ski season in the north. I've given a link to Italian climate information in "Additional Resources" below.
The weather in Italy is just one factor in deciding what time of year to visit. If you can travel outside of the peak season, your vacation might cost up to 50% less.
~ Evaluate Whether to Travel Between Regions and Cities by Train, Rental Car or Both ~
I've put links to the Italian Train System and Roads/Motorworks below. As you firm up the locations you want to visit:
think through how many days you want to spend at each destination,
- map out a route between locations and factor in the driving distance/time between them, - look at train schedules and prices. Get car rental rates in advance of going. Know that: (a) stick-shift transmissions and small cars are the norm. You will pay a premium for anything larger, faster or easier to drive; (b) auto insurance, part of your rental fees, is steep; (c) gas prices are higher than what you pay in the US and road tolls are frequent; and d) you'll need an international drivers license.
We flew into Rome, drove north to Tuscany, drove east to Venice and turned our rental car in there. After our time in Venice, we rented another vehicle to tour northern Italy and into Austria.
~ Get Rates for Hotels and Resorts ~
Italy has a Value Added Tax (VAT) on accommodations that may not be included (or even mentioned) at online discount travel sites. The VAT imposed on various business transactions and purchases is about 20%. That can dramatically affect your hotel costs, so be aware when booking through online American-based companies. We found that researching the hotels' own sites online and then calling directly to book rooms resulted in lower prices and better rates than offered online. It's possible your itinerary or experience may be different.
~ Consider Adding Day Tours on Foot, By Motorboat, Gondola, and Segway ~
You can find reputable firms online who offer 3 to 8 hour guided tours of Rome, Florence, Cinque Terre, Venice and other regions with English-speaking guides. Take a look at the offerings and costs. Find out the maximum group size and how rigorous the walking part is to see if that suits your needs. These tours have to be booked and paid for in advance.
Our experience in Venice and Munich was that once you get to your destination, the concierge at your hotel can set you up for tours that were 'not available' online for your chosen dates and at lower costs than online booking sites. The Secret Itinerary tour at Doge's Palace in Venice was a perfect example. English-speaking tours to King Ludwig's castles in Bavaria were also cheaper in person than by pre-arrangement.