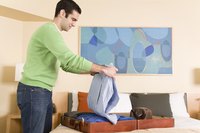 With preparation and proper folding techniques, you can ensure the clothing in your suitcase arrives at your destination relatively wrinkle-free. Arm yourself with garment bags and plastic bags of several shapes and sizes. Pack in layers, separating each layer with plastic, which decreases friction that causes wrinkles in fabric.
Things You'll Need
Plastic dry cleaner bags
Plastic grocery bags
Select your clothing. Separate clothing by fabric and weight. For example, put your heaviest fabrics like denim or khaki in one pile and medium fabrics in another. Continue until you have ended with the lightest and most delicate fabrics.
Fold or roll your clothing. Fold each item using the fewest folds to accommodate your suitcase. The fewer the folds, the better the results. Fold the item in half if possible. If the item is too large for the suitcase, try folding the bottom up a few inches to fit. Another method is to roll the item into a roll that will fit into an empty hole in the suitcase.
Layer your fabrics. Line the bottom of your suitcase with a plastic bag, such as the kind you get from the dry cleaners. Place your heaviest fabric in the bottom of the suitcase. For instance, if you have denim, or a thick fleece jacket, place that item in the bottom. Place about six to 10 items more of a certain fabric in your suitcase. Layer another plastic bag. Repeat with another type of fabric. Always remember to layer a plastic bag between fabric. Add a layer of plastic if you have more than six to 10 items without a plastic barrier.
Protect miscellaneous items. When you get to the middle of the suitcase, place shoes in the corners carefully. Place your shoes separately in a plastic bag (from the grocery or a zippered bag). Tuck them around the edges of the suitcase; they should mold into the corners. Add shoes before you place the lighter fabrics nearer to the top. Undergarments, purses, hats and other items also should be placed in plastic or zippered bags and nested in corners.
Finish packing. Press down gently to ensure the suitcase items are snug. You do not want them to move around. If your suitcase has a clip belt closure, snap it shut. If it does not, add a towel or more plastic bags to make the items snug. When you unpack, use the plastic bags for drawer liners in your hotel room.