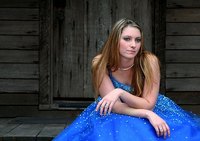 One of the fundamental arts of fashion is to take a piece of fabric and turn it into a finished product. The end product may look pretty or interesting or make people think about design in a new way. If you are designing a fashionable dress, there are several steps you will want to follow to make the process easier.
Things You'll Need
Look through fashion magazines for inspiration. Such magazines not only document fashion, they help to determine it. Take a close look at the latest edition of Vogue or Women's Wear Daily. Look at the advertisements as well as the text and pictures.
Decide on overall look of the dress. Think about the length of the sleeves, the formation of the neckline and how the item will fit on the body. Think as well about the length of the dress and how it will look from the back. A dress is a three-dimensional object--remember to look at it from all sides.
Choose fabric for the dress. The fabric should complement the design if possible. If you going for a flowing effect, choose fabric that seems to fall away from the body, such as satin. If you want a look that hugs a woman's curves, think about tailoring in velvet. Use more than one fabric if you want. A print neckline may work well against a long solid bodice.
Take the measurements of the person who will wear the dress. Make sure her measurements include her waistline and height. If you are designing for an unknown person, use a standard dressmaker's model.
Plan the design on a piece of muslin. Muslin is an inexpensive fabric that allows you to make a prototype of the dress; it can be cut and draped to your specifications. Use the muslin to experiment with the design. If there's an element you wonder about, such as a specific type of shirring or intricate back detail, work this out in the muslin.
Sew the finished design. Use the muslin as a guideline. Cut out the individual pieces that you need from the fabric. Sew them together on a sewing machine. Add details such as beading or intricate hemlines during this process.