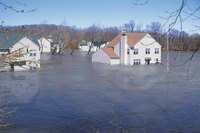 Determing the right level of homeowners insurance coverage is an important first step in protecting your home and assets. In a matter of minutes everything you've worked for can go up in flames, wash away in a flood or collapse during an earthquake. But how much and what types of coverage to you need?
Learn what a standard homeowners policy does and doesn't cover. An All Risk policy is the most common and covers the largest number of risks, such as fire, windstorm and freezing but excludes others like floods and earthquakes. A Named Peril policy limits coverage to specific risks.
Analyze the need for additional diaster insurance to cover floods, earthquakes, tornadoes and hurricanes. If yout live in a diaster-prone area, this is one extra cost you should consider in your homeowners insurance coverage.
Decide on the type of replacement policy needed. Replacement Cost coverage rebuilds a house and replaces belongings for market value at the time of the loss. Actual Cash Value coverage covers property and possessions at their current market value, minus depreciation. Although Actual Cash Value policies are cheaper at the start, it might be more costly in the end.
Estimate the cost to rebuild your home. Find out what current building costs are in your community. Base your calculations on the home's features. Is it a standard construction or does it include upgrades, for instance a granite kitchen, hardwood floors or other special features expensive to duplicate? This is the amount your homeowners policy will insure not the purchase price or even the current market value.
Calculate the value of the contents of your home. The easiest way to do this is to maintain a home inventory. Capture the details in a spreadsheet, keep receipts of major purchases and make sure to have photographs or video of all items. Insurance companies may require additional riders for expensive items like antiques, cameras and computers.
Gauge the amount of Personal Liability coverage needed. This is additional coverage added to your homeowners insurance to cover lawsuits involving bodily damage that happen on your property, such as someone tripping and hurting themselves on a broken piece of sidewalk. The basic coverage is generally $100,000 but more is often recommended.
Determine if you are eligible for any special discounts to your house insurance coverage. Insurance companies reduce premiums for multiple policies holders, like a car and homeowners policy. Other factors that lower homeowners' premiums include a good a credit score, installation of burglar alarms and fire extinguishers and discounts for non-smokers.
Decide what deductible you can afford. This is a big factor in keeping the cost down on your homeowners insurance coverage. The higher the deductible, the lower the premium costs.