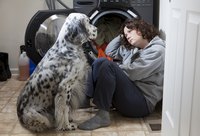 Few events in your role as a pet owner reflect the enormity of your responsibility as when you're confronted with making your companion's end-of-life decision. Trust and rely on your veterinarian; she can counsel you on assessing your pet's quality-of-life barometers, options for treatment and putting him to sleep, or euthanization, explanations of the procedure and referrals for dealing with your loss.
Making Peace With Your Decision
A decision to euthanize your pet due to a traumatic and life-threatening injury may be more clear-cut but no less painful than one made due to a terminal or debilitating illness, or old age. Your vet can infuse objectivity into those confusing moments, counseling you on both obvious and quality-of-life barometers: not eating, drinking, urinating or defecating normally, or subtle behavior changes that reflect discontent and unhappiness. Waiting too long may be too taxing on your pet -- and your family -- than making the decision at the optimal moment, before your pet experiences too much pain.
Don't hesitate to voice your reservations about being present at the procedure to your veterinarian. She can give your pet a sedative so that you can say goodbye and then leave if you need to. She can also help you with body disposal choices that fit your wishes and your budget.
Your Grieving Process
Expect to grieve for your pet as your would any other major life loss. Your grief is unique; your well-meaning friend's experience may not mirror yours. Expect to go through various stages -- sometimes more than once. After your initial shock or denial, you may berate yourself for past decisions and follow that by severe depression and a waterfall of tears. You may feel anger at your vet -- or yourself -- for not being able to do more. Eventually, you'll accept your loss and begin to heal, but there's no magic timeframe for this.
What Can Help You
Resist the urge to close yourself off from others who can lend your comfort and support, especially other pet owners who understand the bond. Don't attempt to rush your recovery or compare your experience to others'. If you find it difficult to share your experience, start a journal of your feelings. A therapist can help you cope or refer you to a bereavement group. When you're able, find an activity to fill the void in your life, such as volunteering at a clinic or shelter. Creating a memoriam in your pet's honor at the clinic that cared for him can also be therapeutic.
Important Considerations
Your grief may be compounded by that of other family members, especially children. Your own open and honest grief alerts your child that the feelings are normal and healthy. If there's a grandparent or other senior who bonded with the pet, be mindful that this is a reminder of his own mortality.
Other household pets may also grieve, so monitor their behaviors and contact your veterinarian if they go off food and water.
Don't feel pressured into getting another pet before you're ready. Take a trip to your local animal shelter and see if it feels right to you.