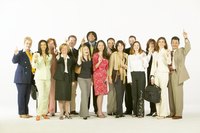 Motivated employees are an asset to any business or organization. When they perform well, the company grows and makes a profit. Employee motivation also creates a better work environment.
Communicate openly and freely. Employees like to hear from their bosses, and a well-informed employee always performs better than the one working in dark. Clearly define a vision and strategy to move your company forward, and share it with employees.
Make employees feel as though they are part of the organization. Accept their input, and involve them in decision-making. This gives a sense of belonging and motivates them.
Genuinely appreciate the hard work of your employees. Being noticed and appreciated is the best dose of motivation any employee can get. A simple thank-you note can go a long way.
Listen to your employees. It is important to pay attention to their concerns, issues and suggestions. You may not have solution to every problem listening and working to understand their view can make them feel better instead of feeling alienated.
Be honest. If the company is going through a tough time, share this information with employees and also tell them what you are planning to do about it. Keeping employees in dark will cause unnecessary speculation and reduced morale.
Share every success with employees, and celebrate them. This makes employees realize the worthiness of their work and motivates them to work harder.
Give credit where it's due. When employees go the extra mile, openly recognize and reward them. This not only boosts their morale but also encourages others to achieve something significant.
Always give a second chance. Understand that mistakes can happen, but unless you are absolutely sure carelessness or disobeying caused an error, give your employee a chance to fix the problem and move on. This removes the fear-factor from trying innovative ideas.
Lead by example. A positive attitude sends a strong message.