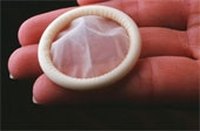 Having safer sex requires the use of latex male of female condoms. There are many benefits for using latex condoms including the prevention and spread of diseases and pregnancy. As we become more aware of HIV and AIDS education the importance of using a latex condom during sexual encounters has become even more prevalent even for teenagers as well as by adults. Now that we're aware of the importance of using latex condoms. Some people find the expense of condoms and the inconvenience of not having them on hand to be a deterrent. If the expense of latex condoms is holding you back from practicing safer sex then please follow the steps below to get both male latex and female latex condoms. There are many community resources that will gladly provide you with free male and female latex condoms with no questions asked. Follow the quick and easy steps below to get your free latex condoms.
Things You'll Need
Call your local Health Department and ask what days you can pick up some free latex condoms. Your Health Department will either be a County Health Department or a State Health Department and they both are budgeted with funds to distribute free latex condoms in both male and female types. Health Departments are given government funds to provide the community with free latex condoms for the prevention of disease and to promote good public health.

Call your local Planned Parenthood Organization and ask what days you can stop by to pick up some free male or female latex condoms. Government funds are given to Planned Parenthood Organizations for the purpose of preventing unplanned pregnancies as well as decreasing the spread of sexually transmitted disease through unprotected sex.

Call your local HIV and AIDS Organization and ask what time they're open to pick up free male and female latex condoms. Government as well as Private funds are given to these organizations to prevent the spread of HIV and AIDS to those who have been affected by Sexually Transmitted Disease and to distribute latex condoms to unaffected sexually active people in our community.