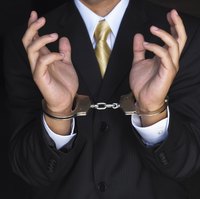 Psychopathy is characterized by a lack of conscience and complete disregard for the rights of others. Psychopathic personality disorder is often associated with violent and/or criminal behavior. According to MentalHealth.com, approximately 20 percent of incarcerated criminals would qualify for a diagnosis of psychopath. Psychopathic personality disorder is sometimes referred to as sociopathic personality disorder or anti-social personality disorder. It is not to be confused with social phobia or social anxiety disorder.
Adolescence and Conduct Disorder
A person must be 18 years of age or older and have had some symptoms of conduct disorder (delinquency) before the age of 15 to be diagnosed with psychopathic personality disorder. Cruelty to animals and setting fires during childhood are linked to the development of antisocial personality, according to the University of Maryland Medical Center.
Appearances Can Be Deceiving
On the surface, the psychopath may seem perfectly normal. He may even be very charming or witty. Psychopaths are good at flattery and manipulating the emotions of others. They are smooth-talkers who can put on a good act. Psychopaths are rarely anxious because they don't care what others think. They are very good at self-control and usually appear confident and relaxed.
Anger and Reckless Behavior
Psychopaths are often angry, irritable and behave recklessly with no regard to their own safety or the safety of others. They repeatedly become involved in physical fights or assaults. Psychopathic personalities may try to intimidate others. Their behavior can become abusive and/or violent. They may engage in unlawful behavior that leads to their arrest and subsequent problems with the law.
A Need to Control
Psychopaths can be arrogant and feel they are superior to others. They are typically detached and emotionally cold. According to ChangingMinds.org, psychopaths are similar to narcissists in the way they manipulate people. However, narcissists seek praise and admiration, whereas psychopaths seek only control. People with a psychopathic personality can lie and steal and hurt others without showing any guilt or remorse. Their relationships are usually short-term, since they lack the ability to commit on a long-term basis.
Seek Professional Assistance
Do not assume that someone has antisocial personality disorder because he has similar traits or behaves in a particular way. There are several personality disorders that have similar characteristics. According to the University of Maryland Medical Center, the diagnosis of antisocial personality disorder is based on psychological evaluation, history, severity of symptoms and the presence of conduct disorder during childhood. People who suffer from the disorder will rarely seek help on their own. It is extremely difficult to convince them that they have a problem and need professional assistance. If you suspect a loved one suffers from antisocial personality disorder, the Mayo Clinic recommends seeking professional assistance to help you cope.