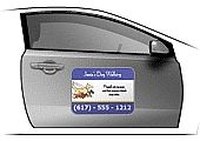 Inexpensive Car Magnets - Great for Advertising, Churches, Civic Groups and Gifts!!
Things You'll Need
your own artwork (optional)
The easiest way by far to make a car door magnet is to design one online. There are many companies that make advertising products, but you can get one FREE, just for the cost of shipping at Vistaprint.com. Once you get to their site, click on "free products" on the left side of the homepage, then click on "car door magnets".

Choose one of their preloaded designs, but add your own information to it or for an additional, small fee, you can add your own photos/artwork/logos. They have 100's of designs to choose from and offer quick service.

These are great for businesses, churches, civic groups, etc. I made one with my favorite Bible verse on it. You can even put a photo on it and give them as gifts for grandparents to put on their refrigerator door!
You can also purchase magnetic 8x10 sheets at craft/hobby stores. One side is adhesive-backed to stick on your artwork. The other side is magnetic. These would be fine for indoor magnets, but not as durable for car magnets.