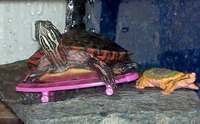 Any aquarium with a filter system will sooner or later get the white scum on the glass near the water line. This layer of scum on the aquarium glass will make it very difficult to watch your little turtle or fish. Follow these simple steps when you clean your aquarium, your glass will be crystal clear again.
Things You'll Need
Stainless Steel Sponge (also known as steel wool)
Natural Dish Detergent (free of dyes & Perfumes)
Purchase a stainless steel sponge (some people also call this steel wool) at your local grocery store, usually located in the cleaning supplies section with all other sponges.

Remove all your aquarium fixtures and little friends before cleaning. Take your sponge from the wrapper and get it wet with water and add a drop or two of natural dish detergent to get a lather.
Scrub the entire inside of the aquarium with the sponge. Paying close attention to the area where the scum was located around the water line of the aquarium.
Rinse with warm water thoroughly and just like that your aquarium glass is crystal clear again and now you can watch your little pets again!