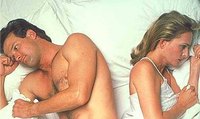 Your sex life is in the tank, and you can't recall the last time you were "in the mood." To add to your problem, the idea of ingesting or applying non-FDA-regulated libido enhancers touted in "improve your sex life" infomercials creeps you out. Ready for a new approach? Consider the most natural one on the planet: stimulation of your meridian points. Chinese medicine that goes back thousands of years asserts this claim: You can revive your most pleasurable urges by stimulating specific places on the body. Worth a try? You bet.
Things You'll Need
Health check-up
Knowledge of meridian points
Acupuncturist or acupressurist
Willingness to clean up diet
Aromatherapy (optional)
Get a clean bill of health from your physician. If you are taking one or more medications known to cause a decrease in libido, this will sabotage any method of recovery, including meridian point stimulation.
Understand the role meridian points play in human physiology. If you're already a student of Chinese medicine and understand why people in Asian societies have come to rely on meridian points to boost their libidos for 5,000 years, you know that the meridians are energy fields (Chi) that are subtle yet powerful. They cause sensations humans can't feel, find or see, yet their healing vibrations can make dynamic bodily changes after acupuncture or other Asian-inspired body work.
Locate your 12 meridian points by identifying these four lines: 1) three are located in the area stretching from torso to fingertip along the inside of the arm, 2) three stretch from fingertip to face on the back of the arm, 3) three run from face to feet on the outside of the leg and 4) the final three are situated between the feet and the torso along the inside of the leg. Meridian point locations governing libido are found on lines that run between the liver and the foot (called the Liver Meridian) and are known for energizing the area between the anus and labia in women and anus and scrotum in men.
Begin your recovery by consulting with an acupuncturist trained on how to release the critical libido energy being blocked. Blood stagnation, a deficiency of fluids, and extreme body temperature changes can have a devastating effect on one's sexual desire and must be released through stimulation, thus removing blockages that stop the Chi from taking its natural course through the body.
Turn to acupressure if you're not comfortable with acupuncture. Pressure points along specific meridians can be massaged and manipulated as an alternative to the needles used in acupuncture to release energy so libido can be restored. Meridian stimulation is credited with reversing a wide number of female libido blockers, including those caused by birth control pills, blocked fallopian tubes and endometriosis, which causes abnormal growth of uterine tissue. Some practitioners claim meridian stimulation can restore ovulation for women whose cycles have stopped.
Investigate herbal remedies in conjunction with acupuncture or acupressure treatment. Asian herbalists tout Muira puama ("potency wood"), Tribulus, Horny Goat Weed (Epimedium grandiflorum), Maca (Lepidium meyenii) and a three-herb energy/sex-enhancing mix of Chinese ginseng (Panax ginseng) with ginkgo biloba and sarsaparilla (sometimes called Smilax medica). These herbs, when used with meridian stimulation, are said to remedy 'fire depletion' in the kidneys and heart, a common diagnosis found in men and women with low libidos due to blocked vessels carrying blood and energy throughout the body.
Combine the meridian stimulation therapy you choose--acupuncture or acupressure---with dietary changes to maximize your recovery. Your body must "rebuild its essence" once it begins to rid itself of the energy blockers that caused your libido problems in the first place. Practitioners in the field of meridian point stimulation recommend foods with warm properties--specifically lamb, onions and chives---plus the right balance of work/exercise/play to ease the factors that triggered the original lack of libido.