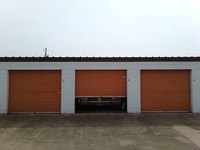 Storage facilities are used to store boats, cars, furniture, tools, or to temporarily store belongings while moving or remodeling. The storage facility business can be lucrative. Many storage facilities provide simple amenities and require little maintenance, and can be built for a much lower cost than other types of businesses.
Decide whether you want to open a franchise storage facility or your own. Both require startup capital, but a franchised facility comes with its own business plan and support system. However, you will have a lower revenue ceiling than if you create your own facility.
Develop a business plan if you are creating your own facility. Consider the size of a lot needed and the cost of such a lot, building costs, rental rates, short- and long-term revenue plans, and the kind of security you will provide (a standard form of storage facility security is a fence and gate opened by a keycode). Create a rental agreement you intend your tenants to agree to and adhere to. The business plan will need to provide a convincing plan for your business and prove the financial viability of your endeavor.
Find a lot or location to build on. If there are many lots to choose from, find one with an easily accessible location and space to build your storage units on. Otherwise, you will need to tailor the size of your facility to match the space available. Avoid lots that are remote or hard to find.
Build the lot, offering several sizes of units. You can offer smaller, uncovered units the size of standard parking stalls to make use of any extra space that is too small to build a unit on. Storage units need enough space between them for trucks towing trailers to navigate through.
Begin leasing units per the terms of the rental lease agreement. Offer quick move-ins and move-outs, move-outs without notice, and prorated rental fees to attract customers.