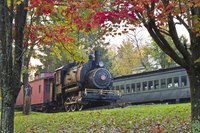 The Catskills -- a 6,000 square mile area of mountains, parkland, forest and river -- can be easily accessed from major cities. Soaring peaks overlook green valleys and quiet streams that regularly draw avid fishers, hikers and skiers. Quaint towns, antiques shops, old-time resorts and small farms lend a feeling of an America gone by. But the Catskills isn't just about natural beauty and nostalgia. Upscale spas and hotels pamper the well-heeled and local farms supply a lively bar and restaurant scene.
By Bus
Bus service will land you directly in many of the major towns in the Catskills. Greyhound will get you to towns such as Livingston Manor, Phoenicia, Roscoe, Tannersville, Windham and Woodstock. Adirondack, New York & Pine Hill Trailways also links to many major Catskills towns such as Arkville, Delhi, Fleischmanns and Haines Falls. The Hunter, Windham and Belleayre-bound buses are popular with ski bunnies during the winter. Shortline Coach USA also connects from New York City to the western Catskills.
By Car
Touring the Catskills by car or motorcycle makes it easy to move around and see more. The area's northern limit is about 90 miles from New York City or about two hours driving. Take exits 16 through 21B on the New York State Thruway (Interstate 87). Those coming from the south take Interstate 81 and Route 17 for easy access. It's a bit more complicated for New Englanders. The most direct route is via the I-84 and I-90. They lead to the I-88, I-87 and Route 17, delivering you right into the heart of the Catskill Mountains.
By Plane
New York City's three airports are the usual entrance point for those flying in. The Albany International Airport, Greater Binghamton Airport and the Stewart International Airport near Newburgh are closer and connect to major American cities. The Albany airport is only an hour away by car from the northern Catskills. It has flights to the Finger Lakes region, Long Island, New York City and western New York. The Greater Binghamton and Stewart airports connect to cities outside New York State. Rent a car at any airport to reach your final destination in the Catskills.
By Train
Take the scenic route and take a train to the Catskills. The Poughkeepsie Amtrak stop is about a half hour by taxi or rental car to New Paltz or Kingston. The Schenectady Amtrak station will land you about 50 minutes by rental car to the town of Catskill. The Rhinecliff, Hudson and Albany Amtrak stops land you in three towns in the northeastern Catskills. The popular hamlets of Kingston and Catskill are a short taxi ride from Rhinecliff. You can also use the Metro-North rail line to get to the Lower and Middle Hudson Valley. Take the Hudson Line from Grand Central Station in NYC to Poughkeepsie. Then rent a car to get to your hotel.