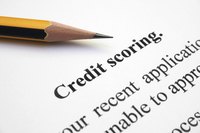 Debt buyers purchase old obligations that the original creditors haven't been able to collect upon. Sometimes, these debts are old enough that they've passed the statute of limitations date, meaning you can't legally be sued to pay them off. One technique some debt buyers use is to place the debt on your credit report, often by altering the relevant date on the account or falsifying payment information. You'll likely have to contact the major credit bureaus to get it removed.
Disputing the Debt
You can dispute the old debt directly with the collection agency, threatening to report it for violating the Fair Credit Reporting Act if it doesn't correct your record. As an alternative, you can report it to the three major credit reporting agencies. Contact Equifax, Experian and TransUnion in writing to report that the debt was added to your report in violation of the Fair Credit Reporting Act. In either case, include copies of any evidence you have supporting your claim, such as a statement that details your last payment on the account.
30-day Deadline
Once you report the re-aged debt, either the creditor or the credit bureaus have 30 days to investigate the dispute. If you request an investigation from both, the creditor does not have to respond to your investigation if it's already cooperating with the reporting agencies. If the credit bureau can't prove the debt is valid, it must remove it from your report. If you don't get satisfaction from the debt buyer or the credit bureau, you may be able to file a lawsuit for FDCA violations.